Back to
Connecticut
State Page

Connecticut's Preferred Business Listings
Featured CT
Communities:
Avon
Windsor
Tolland County Chamber of Commerce
Towns:
Andover
Bolton
Columbia
Coventry
Ellington
Hebron
Mans/Storrs
Somers
Stafford
Tolland
Union
Vernon
Willington





CT I-Zone:
Announcements
Get With It
Speak Out
Writer's Corner





CT Counties:
Fairfield
Hartford
Litchfield
Middlesex
New Haven
New London
Windham

USA Maps
Town USA
USA Weather

Town USA
Advertisers
Arcade
Domain Hosting
General Store
Get Listed
Go Links
Help
Home Business
Information
Press Releases
Search
Sponsors
Town USA
Town USA Mail
What's New

Browse
Town USA
With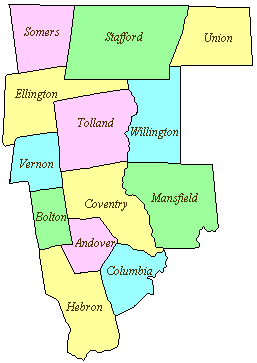 Welcome To Tolland County
Tolland County is home to the main campus of the University of Connecticut. UCONN is one of the nation's finest state schools which draws culture and excitement to Central Connecticut. UCONN's mens and womens NCAA basketball programs consistently rank among the best in the nation.

Town USA is dedicated to connecting you with local Tolland County information such as news, weather, current events and festivities. In addition, our Searchable Listings allow you to find a specific merchant or business near you or view listings of businesses in your area by location and business type.

As part of our commitment to your community, school administrators can establish community email lists for school announcements by clicking here. You can also participate in local forums designed to bring current issues to your doorstep through Town USA's Interactive Zone. It's all here at Town-USA.



Click Here To Learn More!

Search Tolland Yellow Pages
You can search for local merchants three ways. 1. If you already know the name of the merchant or business fill in the blanks and hit submit, 2. If you know only the phone number enter and hit submit, and 3. If you are not sure of the name or location of the business you can highlight the business type and location and then hit submit. If you make any mistakes hit reset to clear all choices. Click here to add your free Town USA Business Listing.


Preferred Town USA Customers
Include a hypertext link from your free Town USA Business Listing to your web site to increase the exposure of your web site to your local community. Click here to view selected Town USA businesses.


Connecticut Interactive Zone


Connecticut Links