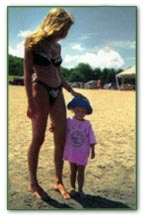 Click for More
Leisure Time!
To keep your family entertained, Sun Valley has hundreds of planned activities. But more importantly, Sun Valley also has 30 acres of immaculately maintained recreational facilities that allow you to relax at your own pace: Visa, Mastercard & Discover accepted
Private Lake
Stocked Fishing
Tennis
Swimming Lessons
Horseshoes
Bocce
Childrens Playground
20 Ft. Water Slide
Lifeguards

Diving & Swimming Docks
Shuffleboard
R/C Race Track
Cross Country Skiing
Basketball
Softball
Ice Skating
2,000 Ft. of White Sand Beaches
Paddle Boats & Kayak Rentals

1998 Seasonal Camping Information
$1925* plus metered electricity. (Camping Season -- April 15,1998 to October 15, 1998) Fee based upon two adults and up to four unmarried children under 21. Additional members may be added for $60 each.

| | | | |
| --- | --- | --- | --- |
| Installment Plan*: | $425-October 15, 1997 | $300-April 1, 1998 | $300-May 1, 1998 |
| | $300-June 1, 1998 | $300-July 1, 1998 | $300-August 1, 1998 |

* add $360 ($60 per installment) for sewer campsites.
Your Families Leisure time is invaluable - Enjoy yourselves at Sun Valley! Only a short drive from the Hartford, Springfield and Worchester areas, your trailer or park model is always ready for you, so you'll never spend time setting-up and breaking down.
By commuting to work from Sun Valley you can maximize your families summer vacation fun even further. And, when you retire, Sun Valley will be your ideal Summer Home. Whatever your lifestyle, at Sun Valley you'll get the most of your leisure time!
Sun Valley is a representative for Kropf Mfg. and Lee Enterprises and offers unbeatable value for all your trailer and park model needs. We offer three options to get you started on your way to camping fun! Land plots are $10,000 to $20,000. Trailers $20,000 to $25,000, so a combination of both can go for as little as $30-$45,000.
Back To Town USA