To learn more about these attractions click on the links to your left. To view an attraction click on the map number below. To learn more about the history of Windsor click here.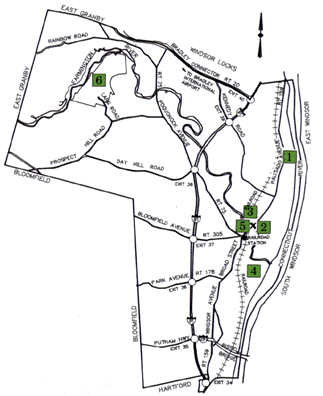 Ellsworth Homestead (1871),
778 Palisado Ave. (Rte. 159). Birthplace of Oliver Ellsworth, member of the Second Continental Congress, a framer of the U.S. Constitution, author of the Judiciary Act of 1789, third Chief Justice of the U.S. Supreme Court, and Connecticut's first Senator. This home is a National Historic Landmark and a fine example of 18th century Connecticut River Valley architecture.
WINDSOR HISTORICAL SOCIETY,
96 Palisado Ave. (Rte. 159). Fyler House, one of Connecticut's oldest surviving frame dwellings (1640), has been carefully restored, and contains period furniture and artifacts. Adjoining Wilson Museum offers changing exhibits and an outstanding historical and genealogical library. Nearby Chaffee House (1765), 103 Palisado Ave., is furnished with invaluable antiques, many made by local and regional artisans.
FIRST CHURCH IN WINDSOR (UCC),
75 Palisado Ave. (Rte. 159). This is the Fourth Meetinghouse (1794) of the nation's oldest Congregational Church society, one that was organized in Plymouth, England, in 1630 before its founding members set sail for the New World. Historic Palisado Cemetery, located next to the First Church contains Connecticut's oldest marked gravesite (1644).
LOOMIS CHAFFEE SCHOOL,
Batchelder Rd. (off Rte. 159). Opened in 1914, this top-rated private secondary school today attracts its nearly 700 students from virtually every part of this country and the world. Loomis Chaffee's park-like campus sits just above the confluence of the Connecticut and Farmington rivers. This picture is the quadrangle, looking towards Pounders Hall.
RAILROAD BRIDGE'S,
graceful stone arches have spanned the Farmington River since 1868. Before and after the railroad came, there was a nearby wharf where ocean-going vessels tied up to take on cargoes of Windsor-made brick 150 years ago.
NORTHWEST PARK,
Lang Rd. (off 75). This 400-acre community recreational facility has more than six miles of marked trails, a maple sugar house, animal barn, and a modern Nature Center with interpretive programs for groups of every age. It also is the site of the Tobacco Museum, which deals historically with the region's indigenous tobacco industry.

Windsor, Connecticut's first community, was launched in 1633 when settlers sailed from Plymouth Colony in Massachusetts to establish themselves at the confluence of the Farmington and Connecticut rivers. The Indians called this place Matianuck.
The Reverend John Warham and 60 members of his congregation, a church organized in England in 1630, arrived two years later, and renamed the settlement Dorchester. A final name change to Windsor was decreed in 1637 by the colony's General Court.
Windsor has been the home of one Governor, two Lieutenant Governors, two Secretaries of the State, and one State Treasurer. Its original land has been used to spin off no less than 20 other Connecticut towns, in whole or part, from Litchfield and Torrington to the west, to Tolland in the east.
For approximately 100 years (1830-1930) woolen mills and paper mills located on the Farmington River in the Poquonock and Rainbow sections of Windsor provided employment for up to 500 people.
Historically, Windsor's economy has been dominated by two pursuits: tobacco farming and brickmaking (since 1675). In its heyday, there were more than 40 brickyards in Windsor. The last one disappeared in the 1960's. The first tobacco crop was planted in 1640 with seeds brought to Connecticut from the Virginia tobacco plantations. While many acres still remain ``under tents" much of its original land has been redeveloped for recreational purposes or for today's modern office and corporate parks.